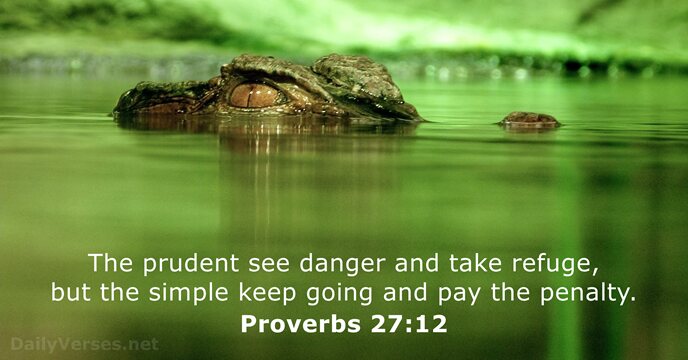 Proverbs 27
When the Lord led me to stop reading other books, and start reading only the Bible, I was like a hungry soul. Even the bitter parts of the Word became sweet to me. While reading the books of prophecy were disturbing at times, they were also sweet because I was beginning to understand so much more and 'connect' the dots. I also began to see that even in His judgment, His mercy can still be found.
A prudent person can foresee evil and hide himself. The best place to 'hide' is in the shadow of the wings of Almighty God. We can prepare for the apocalypse, buying food, medical supplies, items for bartering, etc., but if we fail to hide in the shadow of His wings, and in His Word, all of our preparation is in vain.
Friends can sharpen one another like iron sharpens iron. Whenever I have been with one of my closest friends, you can see it in my countenance. We have deep discussions on spiritual things, hammering out meanings, and how to apply the Word to our daily lives. It is invigorating to have those precious times together, and it shows on our countenance, just like the Word says.
Occasionally, when studying the Word, I will pull out a different version for a fresh, new insight into a verse. I found this in verse 18 of the New Life Version. "He who cares for the fig tree will eat its fruit, and he who cares for the one he works for will be honored." As I pondered on what this means, it occurred to me that when we work diligently and honestly for our employer, it gets noticed by others and by the Lord. I have seen that in my own job. We unexpectedly lost a senior member of our team shortly after I started working in the department. No one knew how to keep things updated in the computer, but in this position, it is imperative to keep things up to date. Patients' lives depended upon it! I kept working on the computer system, playing around with it until I could figure out how to accomplish the task. I continued to stay on top of any updates and changes, even though it technically wasn't just my job. I did it because it was the right thing to do. After five years of this, that diligence paid off when I got a big promotion. It reminds me of Galatians 6:9, where it tells us not to become weary in doing good because at the proper time, we will reap a harvest.
Be diligent! You will be rewarded!
© 2018, Stacy R. Miller