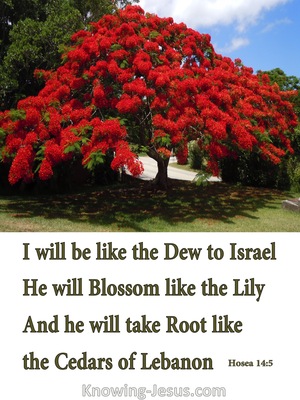 The Dew From Heaven
Do you feel drained? Do you feel like you have grown stale and stagnant in your walk with the Lord? Do you walk out of church feeling more drained than when you walked in?
Hosea has some insights which may help. Many times, we start looking in the wrong direction, or we search for the wrong things. First and foremost, we need to return to the Lord. It is possible that we may have stumbled, due to sin. Instead of repenting of it, we try to hide it. We let guilt pull us away from the Lord. I guarantee you, those thoughts are not from the Lord, but from Satan. He wants to keep you from returning to the Lord, finding release and forgiveness.
Sometimes we feels distance because we begin to look to the world for comfort and encouragement. However, Hosea 14:3 shows us it won't work. The world's ways will never save us, comfort us, or give us hope. That can only be found in Jesus.
The Lord longs to heal our backsliding. We've all been there. It's a slow fade. It doesn't happen in just a day. It happens over time. One day, we wake up and realize we are empty and dry, and we can't figure out how we got here.
Just as the dew falls every night, watering the earth, we also need the dew of heaven. We need to be in the Word every day. It is living water to us. It will refresh us, giving us wisdom and insight to face any situation. It will restore our soul, filling us with God's joy and peace, once again.
When we are faithful to be in the Word, our roots grow deeper and stronger. Hosea describes it as our branches spreading, our beauty becomes like an olive tree, and our fragrance like Lebanon. We will be revived like grain, growing like a vine. (Hosea 14:5-7) What happens is that we are changed from glory to glory. (2 Corinthians 3:18) People will begin to see a beauty arise within us because the Lord is transforming us to be more like Him. They will see a joy and peace that is so rare in these uncertain times. They will wonder how we can be so serene when going through the tumultuous times.
We will turn from our idols, and seek the Living God. We will have a desire to listen and obey because anything else only leads to dissatisfaction and frustration. His fruit will be found in us. (Hosea 14:8; Galatians 5:22-23) We will have learned that the ways of the Lord truly are right, and we will delight in walking in that path. (Hosea 14:9)
The more time I spend in the Word, the more I benefit from it. Recently, my family has gone through one trial after another – some big, some small. However, because I have invested the time to being in the Word, my attitude is much better in the midst of it. I have a joy and peace that doesn't dissipate in the midst of the trials. It is priceless! When I look back on previous years when I often chose to neglect the Word, I see a huge difference in how I handled difficult times. What wasted time! However, I know I cannot live in the past, with all of those regrets. Instead, I forget those things which are behind me, reaching for that which is ahead of me. I press on toward the goal for the prize of the high calling of God in Jesus!
It's the same for you, brethren: Press on toward that prize! It is awesome!
© 2018, Stacy R. Miller