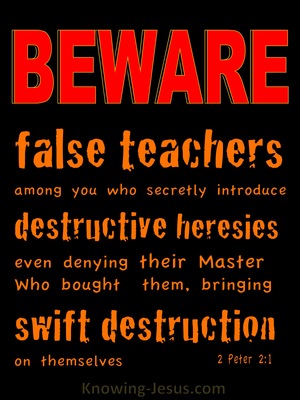 The Church's Great Pretenders
I have noticed there are multiple places in scripture where we are warned about false teachers who will exploit us with their false words and their selfish ambition, as well as deceitful workers who pretend to be apostles.
I decided to compile a list of the scriptures that address these issues because I think it helps us to see how dangerous it is to us if we fall prey to their wicked devices. It also shows the importance of this issue when you see how many times it is mentioned. Obviously, the Lord is making a point on this!
Philippians 1:15-17 (NIV)  It is true that some preach Christ out of envy and rivalry, but others out of goodwill. The latter do so out of love, knowing that I am put here for the defense of the gospel. The former preach Christ out of selfish ambition, not sincerely, supposing that they can stir up trouble for me while I am in chains.  (emphasis added)

2 Corinthians 11:12-16 (NIV)
And I will keep on doing what I am doing in order to cut the ground from under those who want an opportunity to be considered equal with us in the things they boast about. For such people are false apostles, deceitful workers, masquerading as apostles of Christ. And no wonder, for Satan himself masquerades as an angel of light. It is not surprising, then, if his servants also masquerade as servants of righteousness. Their end will be what their actions deserve.   (emphasis added)
The above scripture makes it abundantly clear that Satan himself has workers in churches. That is all the more reason why we need to be studying the Word for ourselves. Otherwise, we may be blindly following workers of Satan in our ignorance of scripture.
 
Titus 1:9-16 (NIV)
He must hold firmly to the trustworthy message as it has been taught, so that he can encourage others by sound doctrine and refute those who oppose it.
 
For there are many rebellious people, full of meaningless talk and deception, especially those of the circumcision group. They must be silenced, because they are disrupting whole households by teaching things they ought not to teach—and that for the sake of dishonest gain.
 
To the pure, all things are pure, but to those who are corrupted and do not believe, nothing is pure. In fact, both their minds and consciences are corrupted. They claim to know God, but by their actions they deny him. They are detestable, disobedient and unfit for doing anything good. (emphasis added)
Again, we see how important it is for us to be in Word, studying it for ourselves. These deceivers are sneaky! If we are in the Word, we will understand that it is imperative that we judge their fruits. Like Jesus said, a rotten tree cannot bear good fruit. He speaks in detail about judging the fruit in the lives of those who claim to be prophets. It is by judging their fruit that we can often tell if they are false prophets. (Matthew 7:15-23)
2 Peter 2:1 (ESV)
But false prophets also arose among the people, just as there will be false teachers among you, who will secretly bring in destructive heresies, even denying the Master who bought them, bringing upon themselves swift destruction. (emphasis added)
 
2 Peter 2:3
And in their greed they will exploit you with false words.  Their condemnation from long ago is not idle, and their destruction is not asleep. (emphasis added)
 
2 Peter 2:13
…suffering wrong as the wage for their wrongdoing. They count it pleasure to revel in the daytime. They are blots and blemishes, reveling in their deceptions, while they feast with you. (emphasis added)
Personally, when I read this verse, I think of the popular prosperity preachers who live in mansions and have expensive jets. They preach this false doctrine of prosperity, but they are the ones who are capitalizing on it.
 
2 Peter 2:14-15
They have eyes full of adultery, insatiable for sin. They entice unsteady souls. They have hearts trained in greed. Accursed children! Forsaking the right way, they have gone astray. They have followed the way of Balaam, the son of Beor, who loved gain from wrongdoing. (emphasis added)
 
2 Peter 2:19
They promise them freedom, but they themselves are slaves of corruption.  For whatever overcomes a person, to that he is enslaved. (emphasis added)
 
2 Peter 3:2-3
You should remember the predictions of the holy prophets and the commandment of the Lord and Savior through your apostles, knowing this first of all, that scoffers will come in the last days with scoffing, following their own sinful desires. (emphasis added)
 
There is a remedy to help us in this so that we will live godly lives, not becoming ensnared by the deceitfulness of riches or deceived by false teaching.
2 Peter 1:3-8 (ESV)
His divine power has granted to us all things that pertain to life and godliness, through the knowledge of him who called us to his own glory and excellence, by which he has granted to us his precious and very great promises, so that through them you may become partakers of the divine nature, having escaped from the corruption that is in the world because of sinful desire. For this very reason, make every effort to supplement your faith with virtue, and virtue with knowledge, and knowledge with self-control, and self-control with steadfastness, and steadfastness with godliness, and godliness with brotherly affection, and brotherly affection with love. For if these qualities are yours and are increasing, they keep you from being ineffective or unfruitful in the knowledge of our Lord Jesus Christ.
In these verses, we see that He has given us all we need pertaining to life and godliness – it is through knowledge of God. Implication: Study the Word so you have that knowledge. Then he goes on to list qualities we should be adding to our lives: faith, virtue, knowledge, self-control, steadfastness, godliness, brotherly affection, and love. If we are honest, we are not going to add these qualities on our own. We need the Lord's help. Implication: Get into the Word and learn about these qualities so the Lord can develop them in our lives.
 
2 Peter 1:10 (ESV)
Therefore, brothers, be all the more diligent to confirm your calling and election, for if you practice these qualities you will never fall. (emphasis added)
 
2 Peter 3:14 (ESV)
Therefore, beloved, since you are waiting for these, be diligent to be found by him without spot or blemish, and at peace.
 
2 Peter 3:16-18 (ESV)
There are some things in them that are hard to understand, which the ignorant and unstable twist to their own destruction, as they do the other Scriptures. You therefore, beloved, knowing this beforehand, take care that you are not carried away with the error of lawless people and lose your own stability. But grow in the grace and knowledge of our Lord and Savior Jesus Christ. To him be the glory both now and to the day of eternity. Amen. (emphasis added)
There are two implications in the above verses. First, we are to take care that we are carried away by these lawless people. The responsibility for this does not rest on our pastors, but on us, individually. Secondly, we are to grow in the knowledge of our Lord. This implies (again) that we are to be in His Word. We are to be students of the Word – always learning more about Him.
If that hasn't whetted your appetite to get into the Word more, I will share one more thought with you. As I have been diligently reading the Word, I have noticed one benefit after another for those who seek the Lord with all of their hearts. Those wonderful promises are throughout scripture. So go on a treasure hunt! Find out what benefits await you, as you seek Him first in your life!
© 2018, Stacy R. Miller