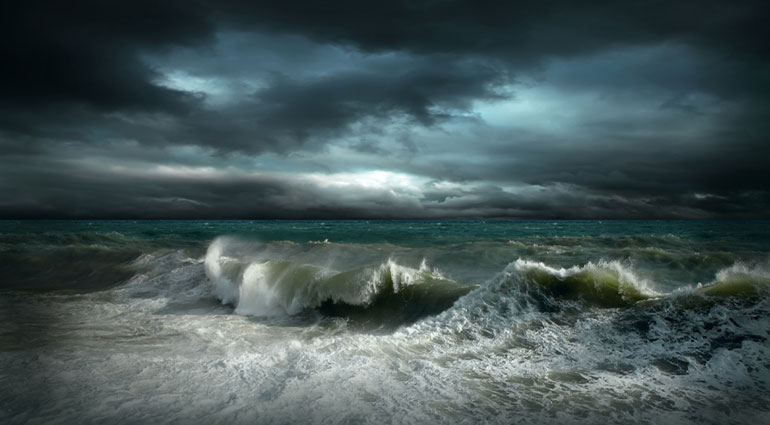 When It Floods
After seeing the worst flooding in our city since 1958, I made some observations that can be applied to our spiritual lives.
As I was watching those terrible storms rolling in, the winds began to blow furiously.  The storm was raging outside, but inside my home, all was peaceful, calm, and full of light.  The Lord gently spoke to me that there are times when it feels that life is fiercely blowing one storm after another at us, but if we stay connected to the vine, we will be able to have light, peace, and calmness in spite of what is going on around us.  Ps. 1:3 mentions the person who is like a tree planted by streams of water, yielding its fruit in season.  The tree yields its fruit because of a deep root system.  If we don't keep our roots going deeper and deeper into the Word of God, when the winds begin to blow in our life, we aren't going to be able to withstand for long.  How are your roots doing?
I was in the living room watching a storm rolling in from the west.  It was only 8:45 AM, but looking outside, it looked more like 8:45 PM.  The darkness was unbelievable for that time of day during the summer months.  When we face trials of many kinds, our outlook can become darkened.  II Sam. 22:29 tells us that the Lord turns my darkness into light.  Ps. 28:28 says that the Lord keeps my lamp burning and turns my darkness into light.  Ps. 37:6 says that our righteousness will shine like the dawn.  Ps. 112:4 says that even in darkness, light dawns for the upright.  Even when the darkness of trials and tribulations surround us, God can cause our light to shine forth.
The destruction from the flooding was incredible.  It was unlike anything I had ever observed.  So many families saw the destruction of their homes, their cars, precious items were destroyed.  Many lost treasured family pictures and sentimental gifts.  When we are flooded with problems, we can face spiritual destruction.  We can feel that our fortress has fallen, never to be repaired.  We must be sure that we are laying up for ourselves treasures in heaven.  (Mt. 6:19-21)  We must remember that we are aliens and strangers on this earth.    (I Pet. 2:11)
After the water receded, everything was so dirty and polluted.  When we are being flooded by numerous trials, are we allowing ourselves to become polluted?  Are we allowing the wrong, negative thoughts to set themselves up as strongholds in our thinking?  Are we allowing our hearts to become bitter and hardened?  I remember hearing our pastor mention that the only difference between the words "bitter" and "better" is the letter "i."  Many times we can't stop the trials that come upon us, but we can choose how we will respond to those trials.  When troubles assail us, we must choose to think upon those things which are true, noble, right, pure, lovely, admirable, and praiseworthy.  (Phil. 4:8)  When our flesh is wanting us to think negatively all the time, we must choose to be transformed by the renewing of our minds.  (Rom. 12:2)
Once the water began to shrink back, you could see that the grass was dead.  The flooding waters choked the life out of the grass.  Mt. 13:20-21 talks about the seed that fell on the rocky places and relates it to one who falls away in times of trouble.  In verse 22, Jesus talks about the seed that falls among the thorns representing those who let their worries choke their spiritual life.  Is this our response when we face misfortunes?  Jesus admonishes us in Mt. 6:33-34 that we need to seek His kingdom first and not worry about tomorrow.  In John 16:33 He reminds us to take heart and be of good courage because He has overcome the world.  It doesn't matter what storms come our way, our God is big enough to help us through them!
While we were out observing some of the effects of the flooding, we couldn't help but notice the stench that was left after the waters had shrunken back.  When facing multiplied trials, do we become a stench to those around us?  Does our attitude stink?  (No pun intended!)  Is. 3:24 says that "instead of fragrance, there will be a stench."  (NIV)  But in II Cor. 2:16, it mentions that we can be the fragrance of life.  Which description is a more apt description of us when troublesome times assail us?  My prayer is that we can say, "We are hard pressed on every side, but not crushed; perplexed but not in despair; persecuted, but not abandoned; struck down, but not destroyed.  We always carry around in our body the death of Jesus, so that the life of Jesus may also be revealed in our body."  II Cor 4:8-10 (NIV)
When the Mississippi River had the great flood in 1993, I was flying to Arizona to visit my brother.  From the plane, I could look down and see the devastation everywhere.  I could also look up and see the beautiful clouds and sunshine that surrounded the plane.  The clouds looked like huge sculptures that day.  They were stunning to observe.  I had the choice of choosing to either look down at the devastation from all of the rain, or I could lift my eyes and see beautiful artwork, done by the Master Creator.  It reminded me of Is. 40:31 where it tells us that those who hope in the Lord will renew their strength, that they will soar on eagle's wings, they will run and not be weary, they will walk and not faint.  Even when there seems to be trouble on every side, we can find our strength in Him.
Many people have fallen away from the Lord in times of trouble and distress because their roots didn't go deep enough to sustain them in the winds and storms that raged in their lives.  Ps. 119:165 says that those who love the law of God will have great peace and NOTHING can make them stumble.  We must be sure to keep our roots going deep.  Ps. 42:7 mentions deep calling to deep.  When we face various trials, we need for deep to call to deep, pulling out from the reservoir of God's spirit in us, the words of life to sustain us and give us hope, encouragement, peace, and strength.
Many years ago I worked as a bank teller.  I remember getting off from work one evening after an incredibly stressful day.  I was on my way to the post office to drop off the bank's mail, yelling to God at the top of my lungs in such frustration.  It had been raining that evening, and as I turned to make my way out of the post office parking lot, I saw the most beautiful, vivid rainbow that I have ever seen.  It was so awesome that I immediately stopped my yelling, but instead of closing my mouth, my jaw just hung there in awe.  Very gently, Father whispers to me, "Daughter, you will face trials of many kinds, but I will NEVER let them overflow you."  His Word spoken to me is the same for you.  Do not fear.  Your trials will not overflow you!
© 2003, Stacy R. Miller