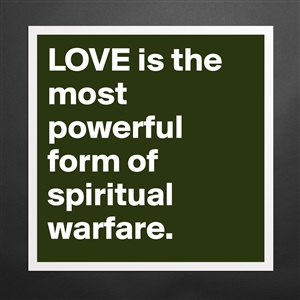 The Warfare of Love
"Above all things have intense and unfailing love for one another, for love covers a multitude of sin (forgives and disregards the offenses of others).
I Pet. 4:8  (Amp. Bible)  The KJV uses the term "fervent" love.  In the Greek, fervent is translated "to be hot, to boil."
We need to have a love in us that is hot and on fire.  Too often, our love appears as barely observable.  Yet, Jesus told us that others would know we are Christians by our love for one another.  (Jn. 13:35)
As I pondered on this truth, I thought of the many times that I have popped popcorn in the microwave.  I can't tell you how many times I have burned my fingers, trying to open the bag.   Needless to say, I drop the bag very quickly when I feel my fingers being scorched by the steam coming out of the bag.  God wants our love to be so hot that we can literally scorch Satan – even before he has his day in the Lake of Fire.
In Mt. 24:12 (Amp. Bible) it says, "And the love of the great body of people will grow cold because of the multiplied lawlessness and iniquity."  The church is the "great body."  Even in this day and age, we can look at things that are taking place within the body of Christ and see that the love of many is already waxing cold.  I know of a lady whose husband lost his job, where he was making over $150,000 per year.  Where they used to be part of the "inner circle" in the church, now they are being scorned.  Love has waxed cold in that church.
Look at the divorce rate in the church.  Love in marriages is waxing cold.
Look at the children who are in rebellion, even in the church.  Love is waxing cold.  Have you noticed the materialism that is even creeping in to our churches?  How often do we find ourselves falling into that subtle, but snaring trap?  So many people in the body of Christ suffer from terrible "I" problems, always thinking of only themselves.  Their love has waxed cold.  So many people have found themselves in rather troublesome circumstances.  It is so easy to be caught up in those affairs, and before we know it, our love toward others has waxed cold.
We need to be praying for God to help us to have an intense and unfailing love toward others, helping us to forgive the sins of others, and to disregard their offenses.  It can seem overwhelming to try to walk in God's love all the time, but He encourages us that we can do all things through Jesus, who gives us strength.  (Phil. 4:13)
Father, let our waking thoughts be turned toward You.  Show us this day how we can be Your hands and Your love extended to those who will cross our path.  Go deeper into our hearts and fill us with Your love.  Let there be more of You and less of me.  Amen.
© 2003, Stacy R Miller